PaperStream
PaperStream is a desktop app that allows you to do two things, create paper diaries, surveys, or quizzes that people can answer using a pen, and then, extract all their answers from paper into a CSV file. That means you don't have to do it manually anymore!
For example, you can start with a one-page PDF template (like this one) that PaperStream will convert into a PDF diary booklet (like this one) ready to print and bind. Then, when a participant has completed the diary, you can scan its pages as PNG files (like these) and PaperStream will give you the answers marked on each page as a CSV file (like this one).
Do you want to work with surveys or quizzes? Do you have a multi-page questionnaire? The documentation in this website shows how to use PaperStream with paper diaries, however, the process is very similar for surveys, quizzes, and questionnaires. Go to "Frequent questions" to learn how to adapt PaperStream to your research protocol or other needs.
Overview
Researchers from different disciplines usually use paper diaries or surveys to collect information from participants in a research study. Even though paper is a cheap and accessible method for collecting data, transcribing all that information to a digital file is time-consuming and error-prone. That's why I created PaperStream, to read all answers on paper automatically and store them in a digital file that can be used in Excel, R or, SPSS so you can spend more time doing research.
Although PaperStream was created with paper diaries in mind, you can use it to create and encode any questionnaires, surveys, or quizzes with multiple-answer questions. To understand how PaperStream fits into your workflow take a look at the following diagram: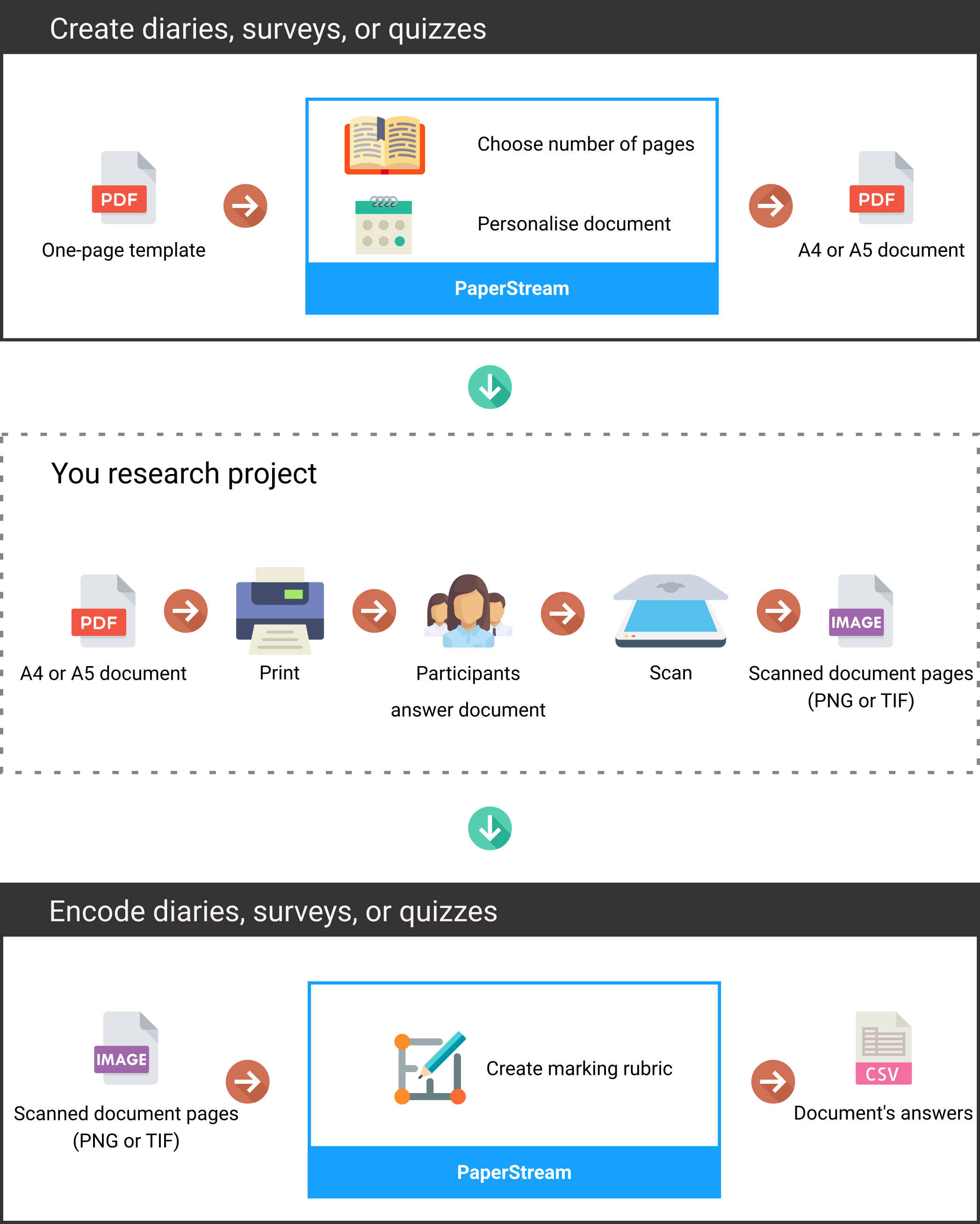 Installation
PaperStream is compatible with Windows, Mac OS and Linux. Go to "Installation" to know how to get started with PaperStream.
Use
PaperStream was designed to be used by anyone, no technical knowledge is required. Go to "How to use PaperStream?" to find step-by-step guides to Create and Encode documents.
PaperStream in Research
PaperStream was created during the SKIP project to monitor Parkinson's symptom fluctuations at the University of Manchester. You can read more about that in our paper: "Back to Analogue: Self-Reporting for Parkinson's Disease" (link).

Did you use PaperStream? Let us know and we can feature your work here.
History
Version 1.1.1 (2018-06-16) Change wording from diaries to documents, make date optional, and bug fixes in UI after uploading a template
Version 1.1.0 (2018-06-02) Add support for PNG files, code refactoring, add tests, bug fixes
Version 1.0.1 (2018-01-21) Fix bug with font textbox
Version 1.0.0 (2017-11-11) - First release.